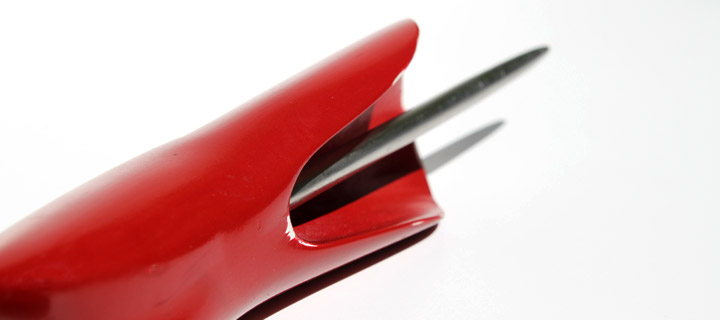 A Universal Letter Opener
Universal Design is a design philosophy based on the idea that by designing for those who are differently abled we create better designs for everybody. If we design a door handle that can be opened by somebody with crippling arthritis in their hands then we end up with a door handle that is easier for everybody to open. In this project I applied these principles to a letter opener.
A standard letter opener often looks more like a knife than something designed to open envelopes, however the blade is dull and doesn't actually cut open the envelope. There is also a newer style of letter opener that slides along the top with a very sharp blade. While this new style is certainly effective, I felt that it took a lot of the fun out of ripping open the envelope. After testing many different sizes and types of objects, I realized that something about 1/4" round creating a consistently clean tear in a fun way.
The new round "blade" was then recessed deeper into the handle to reduce the difficulty of getting started. Now that your fingers are closer to the tip, it's easier to get the tip into the corner of the envelope even if your hands shake.
I have been 'testing' this product for years and I love it. I don't get a lot of snail-mail, but I never fail to pull this thing out and use it when I do.
Universal Design
Student Project
Prototype
Gallery